Spread financial intelligence
What business is the FCA-regulated payment institution Connectum has been on our radar over recent years as a facilitator of broker scams and as a partner of high-risk processors such as HoneyPay or Hawex. According to the latest Similarweb statistics, Connectum makes a significant part of its payment volume with Russia. Among other things, we noticed that Alexander Gerchik, a trader living in New York, exclusively targets Russian clients who deposit via Connectum through his trading education website Gerchik.com.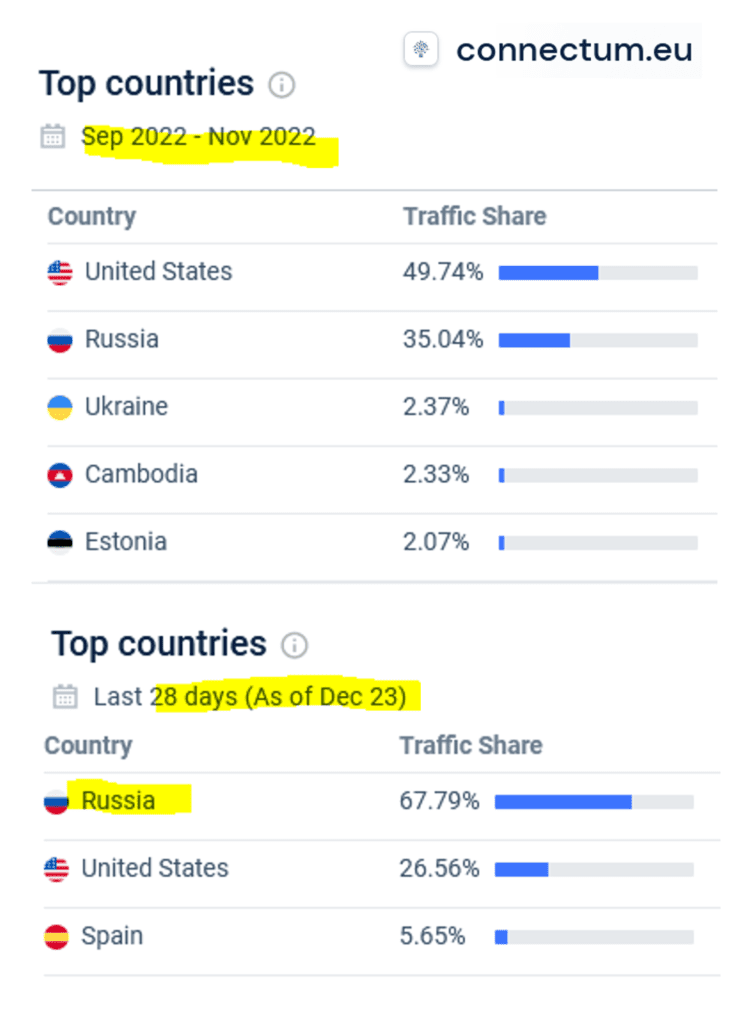 The Update
According to Similarweb data, Russian visitors to the website have become increasingly important over the last few months. Over the last three months, almost 50% of the website visitors came from the U.S. and almost 35% from Russia. In fact, in December 2022, nearly 68% of Connectum website visitors came from Russia. This is remarkable.
Actually, Western financial service providers should not do business with Russia. In this respect, Connectum's approach is interesting. This could also be related to New York-based professional trader Alexander Gerchik (LinkedIn), who targets Russian-speaking clients through his online trading education site Gerchik.com and his brokerage services site Gerchik.co. This should be a successful project with over 260,000 visitors in December 2022. Of these, more than 40% come from Russia and Belarus.
The Gerchik brokerage sites (Gerchik.co and Gerchikco-fx.com) are operated through Gerchik & Co Limited, registered in Vanuatu by the VFSC. There are also J.B. Finance LLP in London, White Heaven SIA in Latvia, and Gerchik & Co Consulting OÜ in Estonia.
Key Data
Trading name
Connectum
Business activities
High-risk payment processor
Visa and MasterCard Acquirer
Domain
https://connectum.eu
Legal entity
Connectum Limited
Jurisdiction
United Kingdom
Authorization
FCA (reference no 624117)
Related individuals
Edgars Lasmanis (former director and owner)
Sokha Heng (controlling person)
Dmitry Gololobov
Ivan Leonidov
Philip Zimmer
Connected schemes
Hawex, HoneyPay, Gerchik
The Connectum Story
Connectum is a Principal Member Acquirer of Mastercard & Visa. Until October 2020, the Latvian Edgars Lasmaniswas the controlling owner of Connectum. He was replaced by the Cambodian Sokha Heng, a politically exposed person (PEP) and the wife of former Transport Ministry secretary of state Ing Bun Hoaw. She controls more than 75% of the company's shares, UK Companies House says.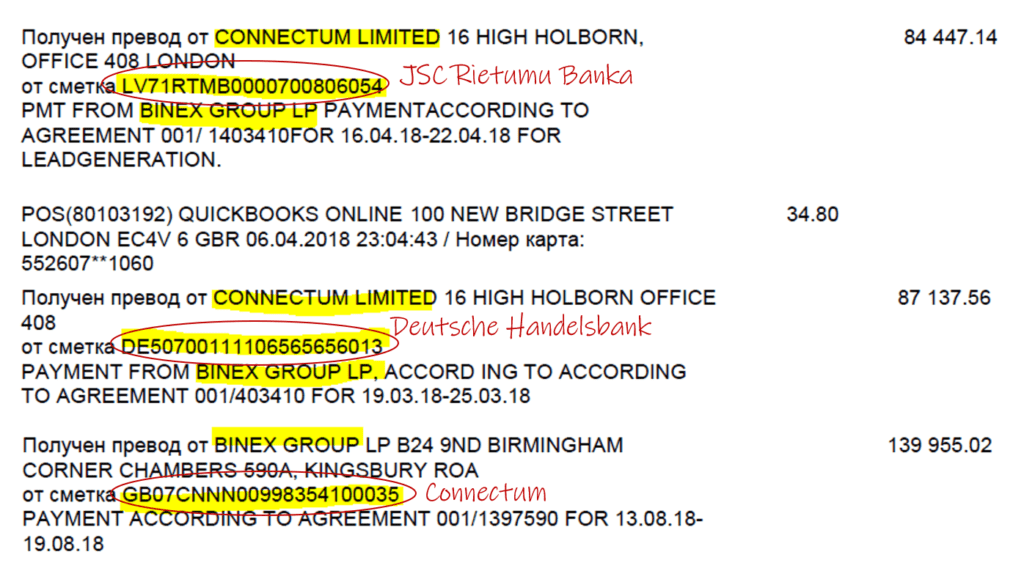 From at least 2017 to 2019, Connectum laundered millions of illegal proceeds of the scams of the cybercrime organization E&G Bulgaria and transferred them to the bank accounts of offshore companies of the cybercrime organization.
Connectum used to have bank accounts at Deutsche Handelsbank and Latvian JSC Rietumu Banka for these transfers (see screenshot left).
Share Information
If you have any information about Connectum, Hawex, or HoneyPay, please share it with us through our whistleblower system, Whistle42